I am offering all 10% discount on any order over $50 (except original paintings over $175). I sell unique very original art, functional art, painted one of a kind distinctive home furnishings and painted furniture. Live in the area of Elkin NC please give me a call and you can pick up your order free. My studio is open by appointment any time.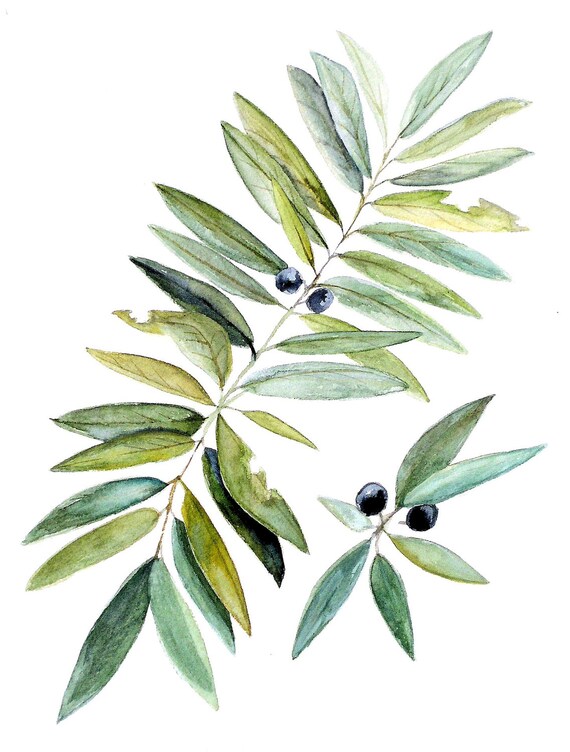 Original botanical watercolor painting Leaves and Berries is an original nature art painted by hand in the studio of Laurie Rohner. My painting is a detailed botanical garden illustration of my whimsical look of natural history showing decorative leaves with berries in varying shades of misty earthy greens from moss to gold and soft sage to deep green blue and navy.
Title: Leaves and Berries
Medium: Watercolor on Paper.
Paper Type: Arches 300lb hot pressed watercolor rag paper.
Image size is 10″ x 13.5″
Paper size is 15″ x 11.25″
Signature: LR on the front, tile, signed, date, on verso.
Unframed.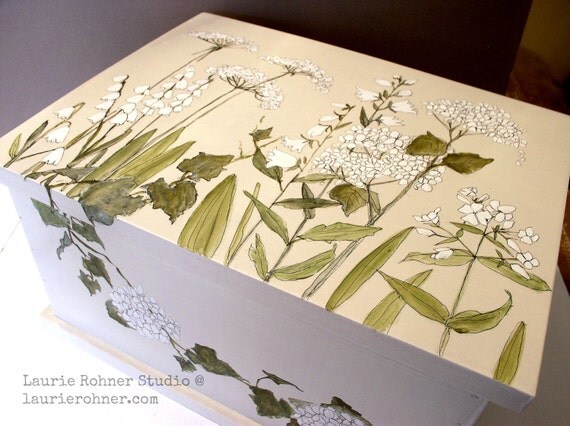 I custom made this keepsake box. The painted hinged box is designed using poplar wood painted a lovely shade of the softest creamy gray taupe white. The sides of this nature box are 1/2 stock poplar with mortised hinges. I love this base color. To compliment the color I decided to use a subtle simple design with greens and white flowers that cascade down the front. The botanical woodland flowers are from hydrangea to Queen Ann's Lace and Lily of the Valley.
Palette: dark green, olive, leaf green, white, cream, light pewter gray.
Outside dimensions:14.75 x 11.5 x 8 inches
Inside dimensions: 12.75 x 9.75 x 6.5 inches
Every piece is signed and dated.
Hours to complete 7 1/2hrs
Ready to ship.
Box weighs 8lbs.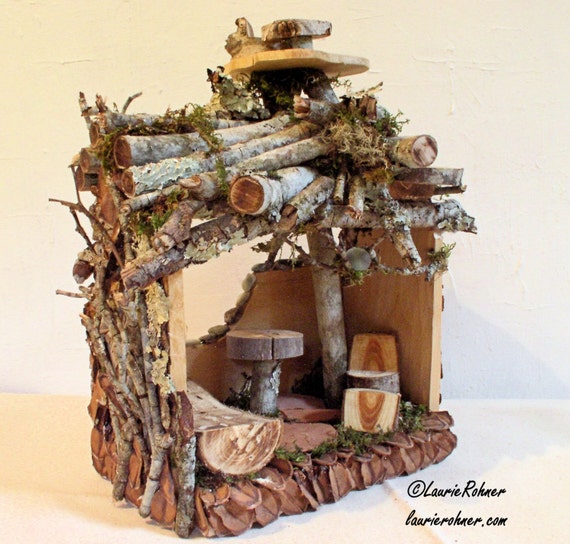 Twig woodland fairy house handcrafted one of a kind magical whimsical nature art sculpture created for home and garden.
The fairy house is made from cedar and pine wood constructing the floor and walls with twigs from a downed dogwood tree for the roof. Bark and pine cone is broken up and glued by hand into place on the walls and polished pebbles frame the back window. On the top is a bench for sunbathing or nighttime star gazing with a table and two stools on the top platform for a dreamy dinner any two whimsical fairies would love. Inside there is a sofa or lounge bed table and chair with footrest. I love the pine wood pattern in this fairy furniture piece.
Now imagine this fairy house sitting up in the trees like a tree house? Notice the tree trunk going through the room and it aligns with the top platform.
Fairy house size: 11 x 6 x 9 inches.
Weight: 2.3lbs.
Fairy pictured NOT INCLUDED.
These are just a few of the unique custom work from Between The Weeds Etsy Shop and only till December 1 2014 can you get an extra 10% off. Remember all my work is one of a kind and there is only one of its kind so if you like something please order.