Bunnies are in Between The Weeds. Check these bunny rabbits out before they hop along and out to a new home.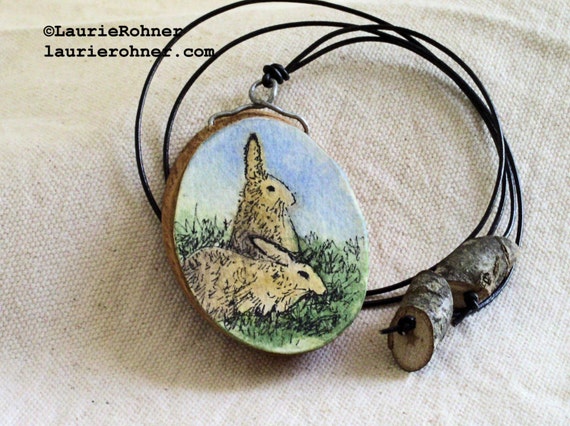 Looking for something fun to wear that will make people stop and ask where did you find that it is so cute? I see a person who is a bit artsy, eclectic and loves the outdoors wearing this. A women who wants to make her own statement.
Necklace measures: 24 inch long
Pendant measures: 2.25 x 1.5 inch and is 1/8 inch thick.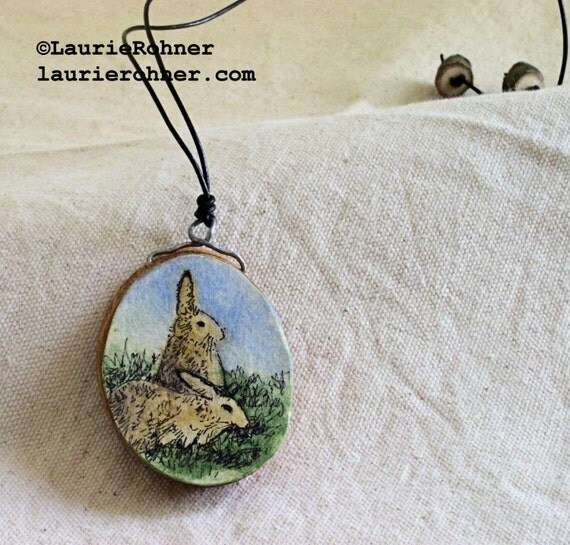 Two bunnies hand painted nature art watercolor wood pendant necklace is a whimsical spring illustration on watercolor paper, glued onto a sliver of natural wood sealed with lacquer and handcrafted with a wire. A natural black leather cord is fashioned into a 24 inch length with a wood cutting from a branch on each end. This is my original artwork and a one of a kind piece of nature jewelry.
Baby Bunny Nature Art Card Watercolor Cabbage Patch Original Art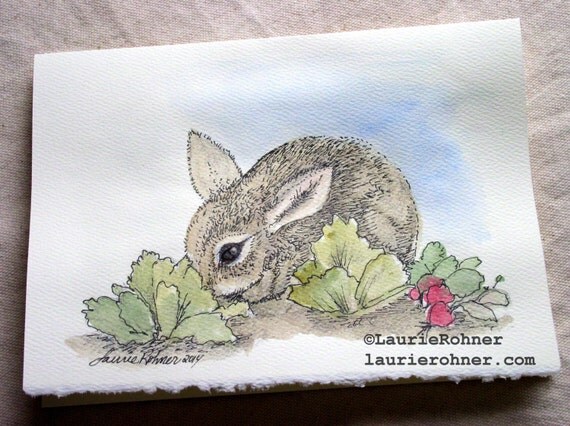 My baby bunny sits in the cabbage patch nibbling is an illustration watercolor nature art blank card. Isn't she sweet and notice the radishes next to her. I wonder where her brothers and sisters are? This is an original art card and would look great framed in a nursery.
Say Happy Easter, New Baby, or even Birthdays are just a few suggestions.Great to give with a frame ready to be popped in and hung as a loving reminder.
You will love my individually hand-painted art cards. Great for gift giving. Can be framed later.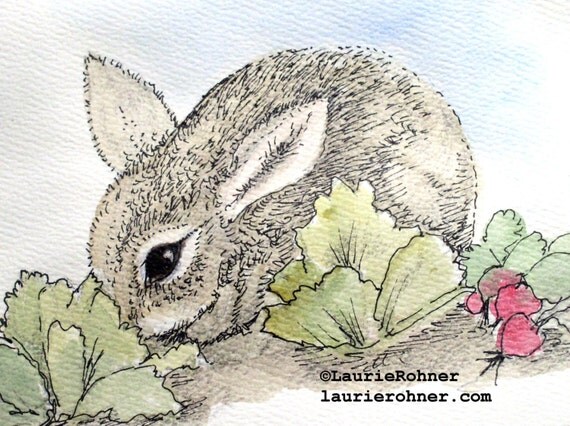 Artwork Title: Baby Bunny in Garden
Card size: 5 x 7 inches
Medium: Windsor and Newton Artist Quality Watercolors on 140lb Strathmore cream card with deckled edges on card and envelope. .
Blank inside, each original art card comes with an envelope.
Both bunny rabbits available in my Between The Weeds Shop at Laurie Rohner Studio or at my Etsy shop.