Take the worthiness that is yours, and let the "Fairies of the Universe" assist you. Stop taking so much responsibility upon yourself, and live happily ever after. Shorten that crevasse between where you are and where you want to be, on every subject, to now, now, now, now, now. Ride the wave. Just pluck the fruit… You don't have to be the one who puts it in the ground any more. You can just skip across the top of things and pluck the fruit of all of the things you want. "Oh, fruit. Oh, delicious this, delicious this, delicious this, delicious this." In other words, it's all right there for you; it's ready for you to receive it as fast and as soon as you will vibrationally let it in. —Abraham
Garden Nature Art Blank Card
Garden flower and wildflower in a is a nature art original watercolor card and is blank inside ready for your notes or message. There are poppies, daisies and berries with a bee buzzing by mingled in between the weeds. The title is Flowers and Berries. This illustration reminds me of the quote I used from Abraham Hicks, I can see the fairies helping you skip along the tops of flowers and berries. Can you smell the sweet scent of life's joy drifting up?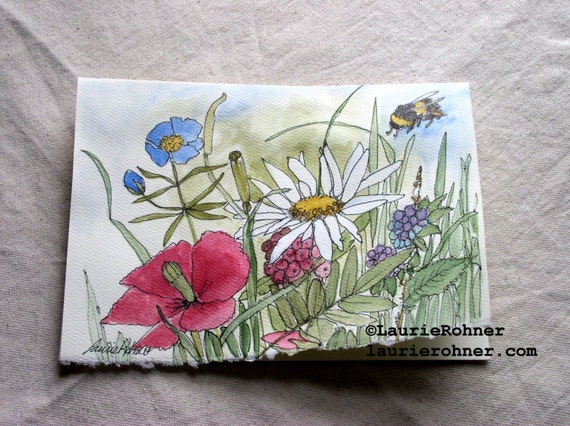 What a lovely way to say thank you for being you on Mother's Day Birthdays or any time of the year. Great to give with a frame ready to be popped in and hung as a loving reminder.
Artwork Title: Flowers and Berries
Card size: 5 x 7 inches
Medium: Windsor and Newton Artist Quality Watercolors on 140lb Strathmore cream card with deckled edges on card and envelope. .
Blank inside, each original art card comes with an envelope.
More nature art cards at Between The Weeds store. Check all out here and in my etsy shop here.