I have created new nature art jewelry for the women who are drawn to unique distinctive natural necklaces and pins. I have incorporated my watercolor illustrations on paper and  slivers of wood, wire and hemp cord. This is an original watercolor of a feather in muted natural colors.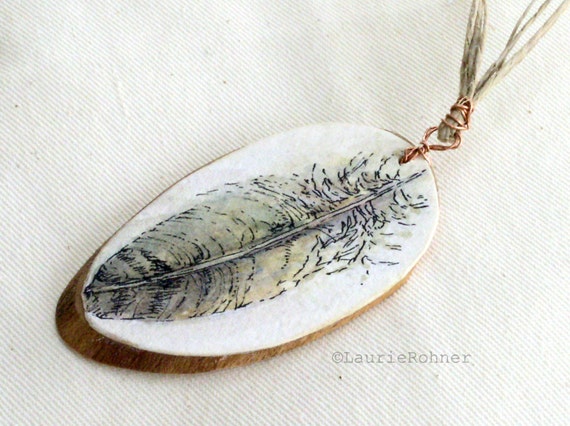 Feather nature art watercolor wood pendant necklace is a hand painted illustration on watercolor paper, glued onto a sliver of natural wood sealed with lacquer and handcrafted with a copper wire swirly hook. A natural hemp cord is fashioned into a 22 inch length with a wood seed on one end that will slip through a loop. This is my original artwork and a one of a kind piece of nature jewelry.
Looking for something fun to wear that will make people stop and ask where did you find that it is so cute? I see a person who is a bit artsy, eclectic and loves the outdoors wearing this. A women who wants to make her own statement.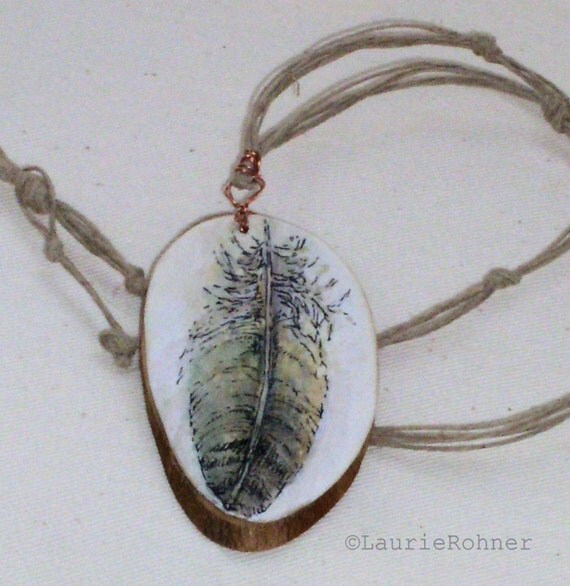 Necklace measures: 22 inch long
Pendant measures: 2.5 x 1.5 inch and is 1/8 inch thick.
Though the necklace is sealed with lacquer do not get it wet.
The pendant and necklace is completely made by hand and this is original not printed art work.
Enjoy my art be sure to check out
http://laurierohner.com