How does being brave when creating make your art better? This was asked during an interview with Lilla Rogers, top art agent, on the Do What You Love blog. 
LR: As an artist, you must congratulate yourself on having the courage to create. Artists are among the most courageous and self-actualised people I know. You're digging deep and bearing your soul. You're not following a pattern or adding up a list of numbers. Instead you are confronting a piece of white paper and on it, you're inventing every line, shape, and colour. You're making a piece of art in your own particular style which is a reflection of your unique personality. And then, God forbid, you show it to others in hopes that they will license or buy it! Holy smokes! We live in a culture that requires artists to sell their work in a competitive environment if they are to make a living from their art. It's almost the antithesis of creativity. So congratulate yourself! 
That's why it's really important to constantly stay inspired. It's worth it, because yes you can certainly make a living as an artist and it's such an amazing thing to do. The whole point of being brave is that you get what you really want!
I think artist of all levels of talent and professionalism should keep this in mind and as she so adeptly said "So congratulate yourself".
Below find what inspires me and plant some courage of your own in my planter painted with wildflowers and botanical flowers.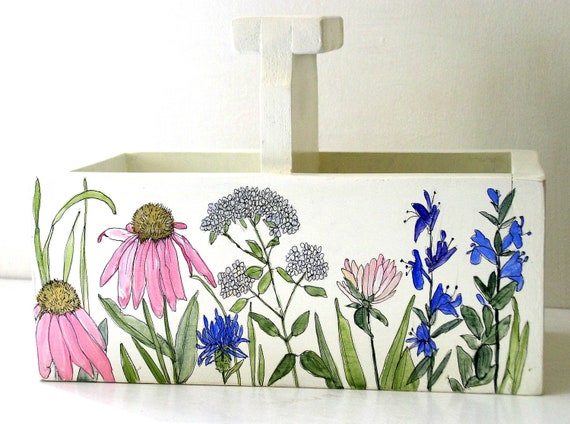 Painted Furniture Cottage Planter Box
Botanical garden woodland painted nature planter box or tote is hand painted with botanical garden cottage flowers and custom made painted furniture. In the home and garden it is a great way to brighten up a farmhouse cottage chic home decor. Use in your kitchen hall entry or bath.
Use inside in the kitchen or use it for a planter with pansies or herbs planted in clay pots. Planter needs a liner (not included) if planting directly into the planter but not necessary.
My custom made and hand crafted wooden storage utensil tote or planter painted a cottage creamy white is one of a kind. I hand paint garden wildflowers on the front and back.
Palette: raspberry, white, cream, leaf green, clear blue, cornflower blue, yellow, purple, lavender.
I use my tote for forks and knives and to keep my brushes clean and dry but you can add a plant or cut greens and you have a fabulous upscale shabby chic farmhouse cottage home accent. If you would like to use as a planter let me know and I will send some moss along to cover the pots at no charge(only within the 48 US states).
Made of pine
Tote measures:12.25″l x 6.5″d x 8.75″h
Inside compartments are 5″l x 5″w x 4.25″d.
Hours to finish about 6 hrs.
The design is sketched on my own hand crafted wood keepsake box. I hand paint and add my signature line work. Each box is a one of a kind work. I do not use stencils transfers or prints and they are always my original work. A functional piece of art can easily fit any decor from traditional funky whimsical or of course farmhouse.
Every piece is signed and dated.
Hours to complete 6 hrs
Ready to ship.
All rights are not transferable with the purchase of this painting and remain with the artist.
The copyright is for photographing and does not appear on the original.
I ship internationally. The amount shown is an estimate. I will refund any excessive overcharges.
For more info about Laurie Rohner Studio visit.
http://laurierohner.com
http://PaintedFurnitureStudio.com
Second Etsy Shop:
http://LaurieRohnerStudio.etsy.com