Some of my favorite flowers in a cottage garden are hollyhocks, larkspur and Delphinium. Where I live these flowers are very difficult to grow instead I painted this canvas to help remind me of the blooms I loved in my garden in New Jersey. How I miss that garden. Maybe you have a garden that has been left but your memories are always good ones. Check out more about garden flowers painted on paper and canvas at Between The Weeds Etsy Shop.
I painted this original oil painting in the Impressionist style, with the colorful blues, purples pinks and creams petals reaching up in the bright blue skies. I used a loose painterly effect. A cheerful painting that will certainly lift your spirits.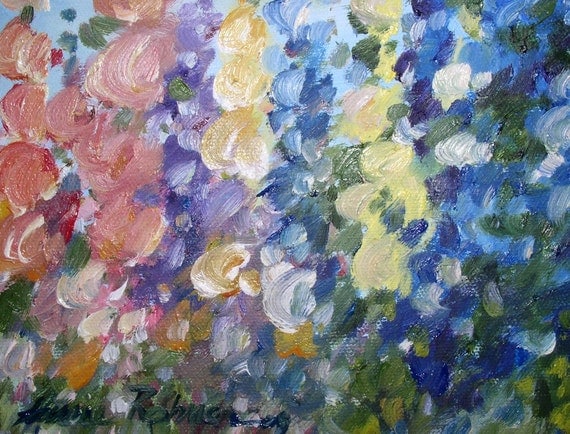 A botanical garden flower oil painting, a colorful flower landscape is original nature art by Laurie Rohner. The original oil painting is a cottage garden of colorful flowers, pink hollyhock and blue and lavender larkspur against the blue sky.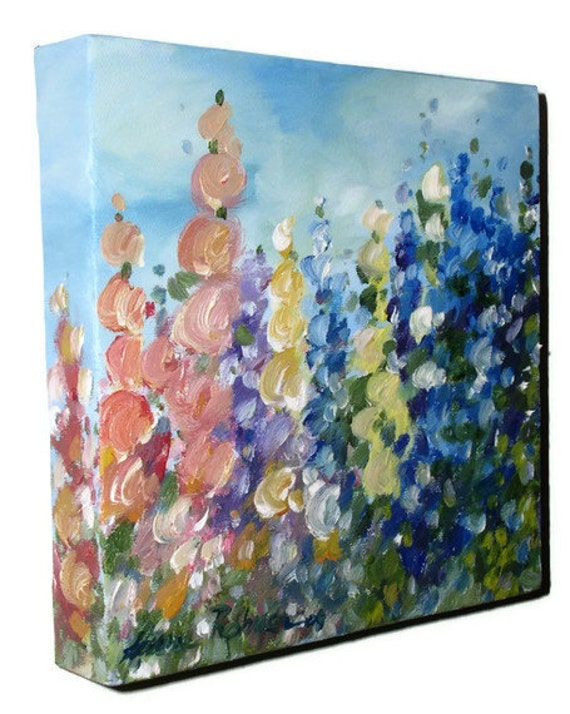 Palette: pink, blue, royal blue, cream, earth green, leaf green, lavender, mauve, sky blue. a splash of orange.
The painting is signed and dated. Ready to hang!
The painting measures 8 x 8 inches on wrapped canvas (3/4″ deep) with staples on the back. This paintings has a beautiful color and a great finish from high quality oil paints.
The staple-free sides of the canvas are painted. The painting continues around to the sides – framing is not required.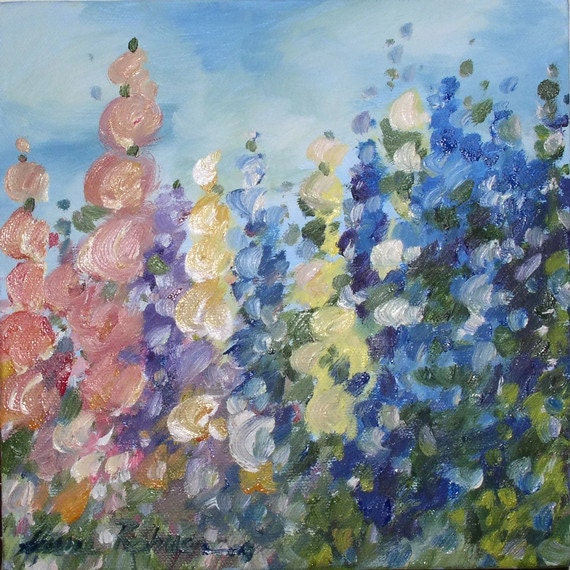 Botanical Garden Oil Painting Flower Landscape Original Nature Art by Laurie Rohner
$95.00 + $8.00 shipping to the 48 USA states.
Your painting is then safely packed and shipped via Priority Mail.
Shop:
http://BetweenTheWeeds.etsy.com
http://LaurieRohnerStudio.etsy.com
For more info about paintings
Web:
http://laurierohner.com
http://paintedfurniturestudio.com