Great nature box is available in the Etsy Shop today for birthday wedding and how about yourself. You do deserve something special and if you enjoy flowers and birds then you will certainly need this in your home. It is a nice large square shape with a heavy-duty hinge. I applied many coats of varnish so you do not have to worry about damaging the surface. Shove cherished photos inside or keep clippings of your greatest achievements safely tucked away. Leave it out on a large table and add napkins and everyday silver ware ready for a quick grab. Leave it nest to the bed and keep the remotes and books you like to read before turning off the light. I love this box and I think you will too.
Botanical Painted Nature Box Custom Made Cottage Furniture Storage Garden Flowers Herbs Bird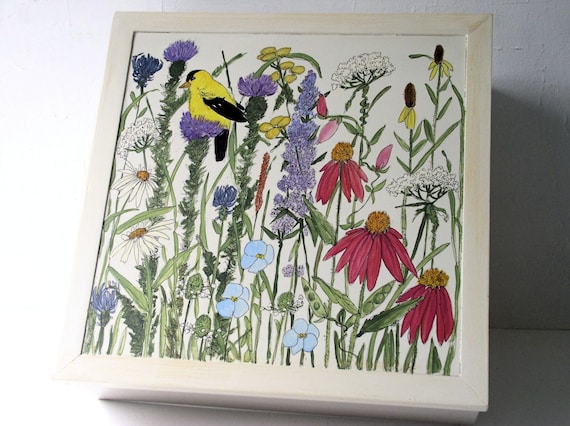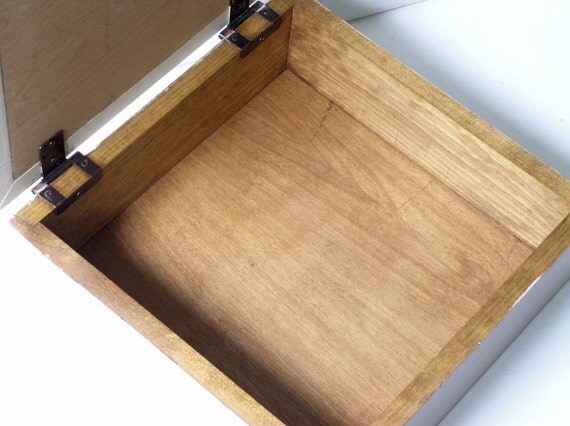 Botanical painted nature box with garden flowers, herbs, and a bird sitting on top of a thistle is custom made cottage furniture for storage by Laurie Rohner. The top is colorful assortment of wildflowers and garden flowers, coneflowers, larkspur, flax, thistle, Queen Anne lace and a sweet goldfinch sits munching on his favorite food, thistle seeds.
This is a custom-made hinged wood box with high quality furniture grade birch plywood and clear pine. The inside is stained a honey color with a taupe gray for the outside base. The top is a soft white with a frame rubbed with a bit of color.
Measures:
outside 13.5 x 13.5 x 5 inches high
inside 12 x 12 x 3.5 inches high
Painting palette: raspberry, lavender, purple, blue, grass green, green, clear blue, light blue, yellow, cream.
Every piece is signed and dated.
Hours to complete 7 1/2hrs
Ready to ship.
Shop:
http://www.etsy.com/shop/BetweenTheWeeds
Second Shop:
http://LaurieRohnerStudio.etsy.com
Visit my web site:
http://laurierohner.com
http://paintedfurniturestudio.com