"We're asking you to trust in the Well-being. In optimism there is magic. In pessimism there is nothing. In positive expectation there is thrill and success. In pessimism or awareness of what is not wanted, there is nothing. What you're wanting to do is redefine your relationship with the Stream. We do not ask you to look at something that is black and call it white. We do not ask you to see something that is not as you want it to be and pretend that it is. What we ask you to do is practice moving your gaze. Practice changing your perspective. Practice talking to different people. Practice going to new places. Practice sifting through the data for the things that feel like you want to feel and using those things to cause you to feel a familiar place. In other words, we want you to feel familiar in your joy. Familiar in your positive expectation, familiar in your knowing that all is well, because this Universe will knock itself out giving you evidence of that Well-being once you find that place. We have enjoyed this interaction immensely. There is great love here for you."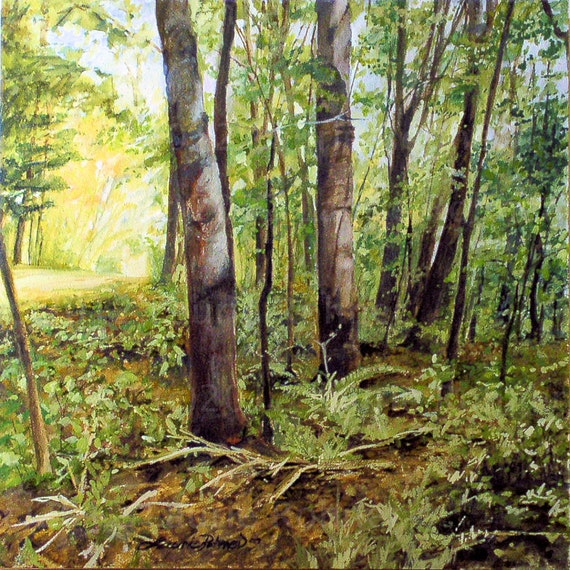 Once upon a time I lived in a wonderful place called Vermont, maybe you have been there? I remember the beautiful cool woods I would escape to on a warm summer day. You could smell the ferns in the air as a gentle breeze would kiss your face. This is where fairies live and earth magic is alive. Great painting to compliment your fairy houses.
Painted on a specially treated watercolor cradled panel.
My watercolor is painted much like an oil painting, but now this artwork is for sale without the need of glass, what a fabulous concept. Painting is on a special treated panel with a 2″ band of wood around the panel. The panel is protected with a fixative and ready to hang without the need of glass or glazing.
Palette: earth brown, deep green, golden yellow, leaf green, sky blue, bark brown, payne gray, sage green.
Watercolor on panel.
12″H x 12″W
Available in my shop at Between The Weeds.