"Excitement must lead to immediate action or you will lose the power of momentum. More dreams die because we fail to seize the moment. Do it now!"
– Tony Robbins, one of the TOP motivational speakers and authors.
I started new work because I listened to what my clients were saying. Keeping your work evolving and experimenting with new concepts and medium allows the creative side of any dream to give birth. It is exciting following a new direction. It is what keeps a dream flowing.
These are two of the recent works I am creating in my studio at Laurie Rohner Studio and Between The Weeds Etsy Shop. I am an artist. I believe original paintings and original functional art is the higher calling using my gift and talent. I believe I can offer original artwork for sale and not reproduce my paintings on demand. I often think about the collector who spends the higher price to buy your work, then you start to reproduce it. Not limited editions but with no set amount. Is the original art still of any value? This is what cheapens artists. It is easy to follow the easier of paths and the money is nice but I think about the collectors of your original work. Eventually a new trend will come along and your work may become obsolete and the market is flooded with your cheap prints. If value is to be given to any dream it must start with the original concept. You started painting to sell your original art to people who admire it.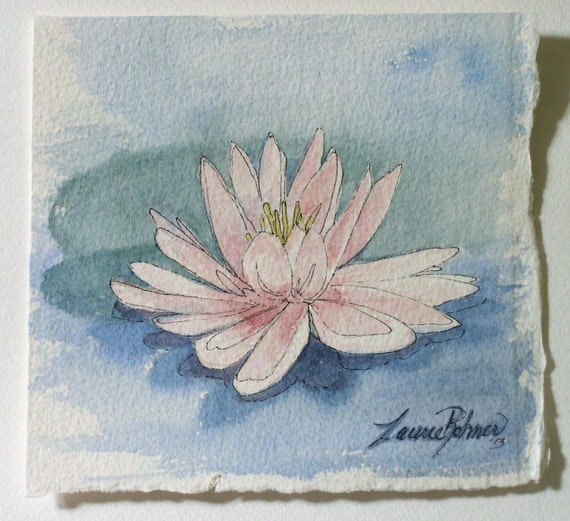 Pink Lotus Flower Watercolor Nature Botanical Garden Art Original Painting
Pink lotus flower is an original watercolor nature art painting titled Balance. This great watercolor is of a lotus flower or lily and lily pads I found at the botanical gardens in Longwood Gardens.
This is NOT a PRINT but an affordable original watercolor hand painted by Laurie Rohner.
Palette: petal pink, gold yellow, teal, deep blue, green.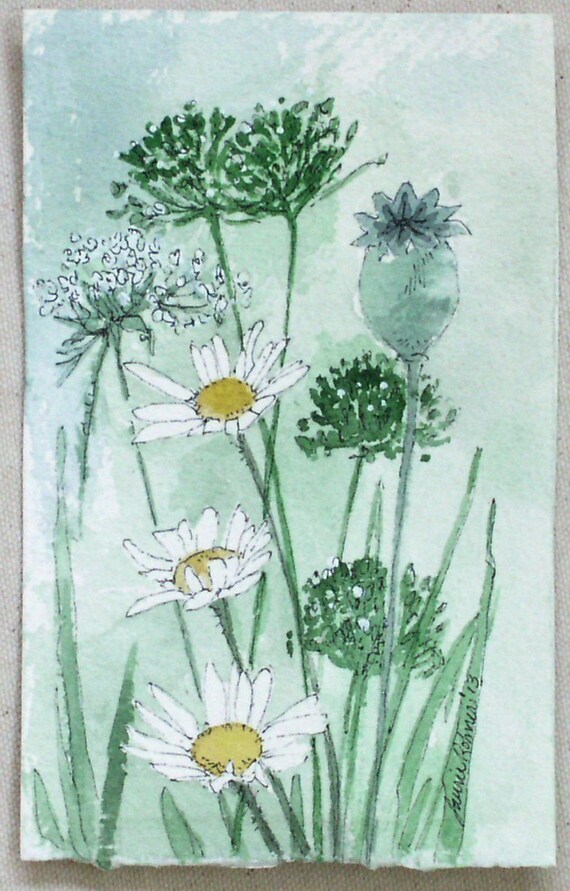 Garden Nature Art Daisies Watercolor Original Painting
Garden Nature Art.
Original botanical watercolor painting, title Daisies is a woodland herbs garden flower illustration original art by Laurie Rohner.
My botanical watercolor of woodland wildflowers herbs and daisies is painted with shades of blues white and greens. This watercolor painting depicts some of the pretty blooms I find in the garden and countryside. Maybe you have some growing in your own?
Wall artwork for farmhouse, cottage chic and loft decor.
About the watercolor originals.
You can mount them in a frame to add a bit of sparkle to your walls, artwork for farmhouse, cottage chic and loft decor.
These are NOT PRINTS
Arches 300lb hot pressed watercolor rag paper.
This is slightly rough thick hand made paper.
Paper size is 6″ x 4″
Unframed are wrapped and ships in a flat mailer.
Small Fact: The paper is so thick you can attach a ribbon to the back and hang it. I suggest mounting the painting on a matte and framing under glass.
These are my original designs and I hand paint each piece.
All rights are not transferable with the purchase of this painting and remain with the artist.
The copyright is for photographing and does not appear on the original.
SHIPPING TO THE USA is at no charge. I refund any over charges in shipping.
I ship everywhere and the shipping charge outside the US is for International Flat Rate for Envelopes. If there are any other fees and charges to you after they are your responsibility and vary with different countries.
For more info about Laurie Rohner Studio visit.
http://laurierohner.com
http://PaintedFurnitureStudio.com
A closing thought is people like to use the phrase going with the flow. Dreams are funny because they change becoming at times bigger at other times unrecognizable from what was thought to be the Dream.  Still if the excitement and energy is still flowing then the momentum will and is in absolute motion. Just realize all things are in motion even your dreams. It is you who stops and allows the dream to die.