"The appearance of things change according to the emotions and thus we see magic and beauty in them, while the magic and beauty are really in ourselves." – Kahlil Gibran, was a great artist, writer & poet.
Here a two little watercolors I have finished and added to Laurie Rohner Studio. They are both influenced by the sky above and the ever changing landscape below. These are Vermont landscapes. Never did a day start or end without some reminder how special and small we are but how unique and magical we can be if only to tap into the beauty within. For me Vermont holds my heart strings and even today as I write this it pulls me closer calling me to hear its song. I believe we can tap into the magic and beauty of the this earthly plan and for each of us it is at a special different place, mine being Vermont. You may find yours in the midst of a busy energetic city street or the desolate landscape of a desert. Maybe it is nowhere and you see it every moment of each glorious day shining out from the cells of your being and as you watch from behind the eyes of your body you understand see and feel the changes occurring all around and can marvel at the beauty of life.  I am not one of those people but what a goal to have and dream to achieve?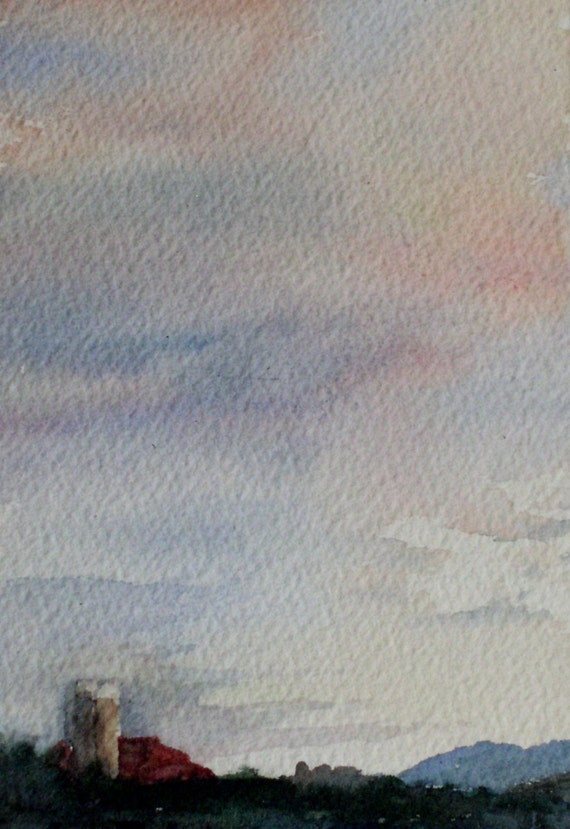 Morning sunrise over a farm in Vermont, the sky subtle shades of blues shell pinks and lavender. The darkness still keeps most of the farm in the shadows. Notice the silos are highlighted just a bit as the light starts to reflect off their shiny surfaces. A wonderful small watercolor landscape nature art original painting by Laurie Rohner.
Palette: blues, pinks, lavender, navy blue, dark red, brown, cream.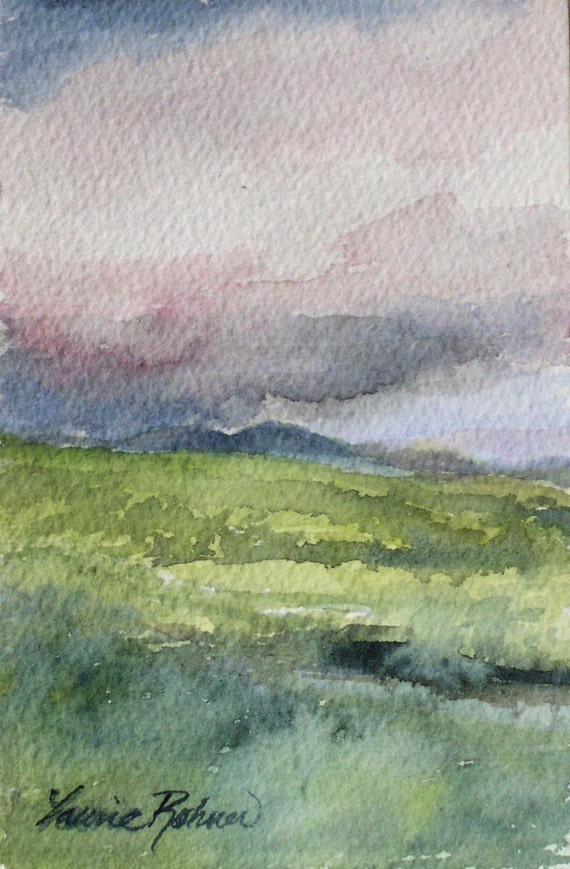 Summer Vermont storm landscape watercolor nature art original painting is titled Storm Breaks by Laurie Rohner. The fields are lush green from the spring cool air but summer has come to the mountains in Vermont and a storm breaks in the distant.
Palette: blues, pinks, lavenders, navy blue, grays, brown, green, blue green.
Mount it in a frame to add a bit of sparkle to your walls, artwork for farmhouse, cottage chic and loft decor.
This is NOT a PRINT
Arches 300lb hot pressed watercolor rag paper.
This is slightly rough thick hand made paper.
Paper size is 6″ x 4″
It is unframed is wrapped and ships in a flat mailer.
Small Fact: The paper is so thick you can attach a ribbon to the back and hang it. I suggest mounting the painting on a matte and framing under glass.
These are my original designs and I hand paint each piece.
All rights are not transferable with the purchase of this painting and remain with the artist.
The copyright is for photographing and does not appear on the original.
SHIPPING TO THE USA is at no charge. I refund any over charges in shipping.
I ship everywhere and the shipping charge outside the US is for International Flat Rate for Envelopes. If there are any other fees and charges to you after they are your responsibility and vary with different countries.
For more info about Laurie Rohner Studio visit.
http://laurierohner.com
http://PaintedFurnitureStudio.com