When I think of spring I think of birds and lambs and flowers blooming up from the now rich fertile ground. I love the watercolors simplicity, I call my nature art. They are fun whimsical original watercolors painted on heavy premium hand molded rag paper. It is dense thick heavy paper (300lb.) that you can mount with out a matte frame  directly onto the matte board or attach a ribbon and hang on a hook. Fabulous affordable wall art for all to give as a gift or to keep for themselves without feeling guilty.  The first two watercolors are 5″ x 7″ and the last watercolor is 8″ x 10″ and are shipped to you in a first class mailer for a nominal fee. Buy one or two (how all) today at Between The Weeds shop.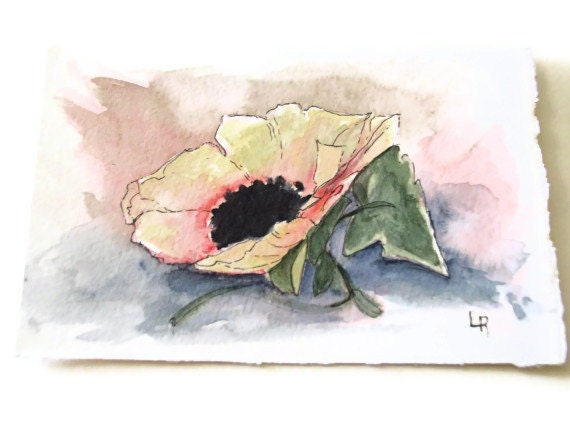 Original nature botanical watercolor painting of a woodland flower.
Anemone is a woodland botanical garden flower illustration and original nature art by Laurie Rohner.
My botanical watercolor anemone is a creamy white with rose pink around the indigo center. This watercolor painting is taken from photos I took of wedding flowers from my days as a floral designer. There is a twist of ivy next to this gorgeous blossom.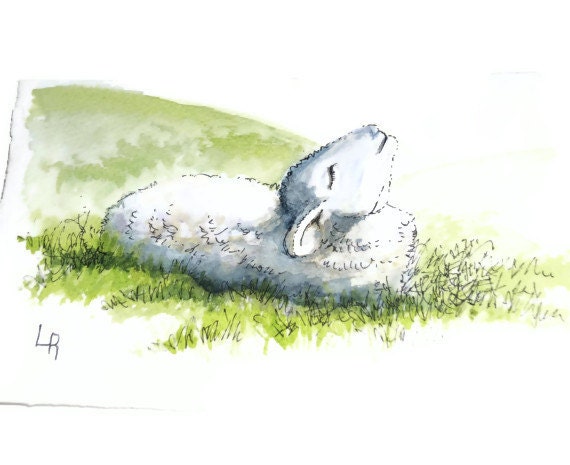 Nature watercolor lamb painting is an original illustration of a sheep looking up to the sky and being bathed in sunlight by Laurie Rohner, titled 'gratitude lamb' is an original art. The lamb is sitting in a field of new spring green grass and it is in shades of blues and whites in contrast to the landscape.It is unframed is wrapped and ships in a flat mailer.
Wall artwork for farmhouse, cottage chic and loft decor.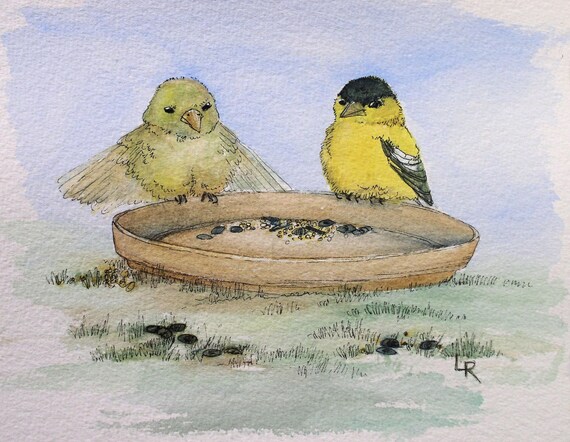 Watercolor nature art painting, two woodland birds, goldfinch, taking a break and feeding on some seed. Nature art is original artwork by Laurie Rohner. This is an original watercolor painting not a print but very affordable for bird lovers and nursery art. Gift idea for new baby or Mom.
Two birds, a male and female goldfinch, are taking a break and feeding on some birdseed left in a clay saucer in the grass by a bird lover. The sky is cheery blue. Notice the bright yellow male sitting on the edge silent while the female goldfinch chatters away at him. I gave this painting the title "Yes Dear". This is original artwork (not a print).
Palette:brown,yellow,gold,blue,clay brown,green,white.
Wall artwork for cottage chic, farmhouse and loft decor.
Shop my entire shop Visit:
http://www.etsy.com/shop/BetweenTheWeeds
Second Etsy Shop:
http://www.LaurieRohnerStudio.etsy.com
Web site:
http://laurierohner.com
http://PaintedFurnitureStudio.com