"If you want to shrink something,
You must first allow it to expand.
If you want to get rid of something,
You must first allow it to flourish.
If you want to take something,
You must first allow it to be given.
This is called the subtle perception
Of the way things are."
–Tao Te Ching, the fundamental text of Taoism and Chinese Buddhism.
River landscape oil painting is an original nature art by Laurie Rohner of the Brandywine River behind the Wyeth Museum. A peaceful impressionist landscape filled with emotion using soft colors. The nature art title of this work is By the Brandywine River.
I visited the Wyeth Museum on a beautiful sunny day and this is a scene from a photo I took. I was inspired to paint it with the Impressionists in mind allowing the emotions I felt to infuse in the image instead of my normal detailed work.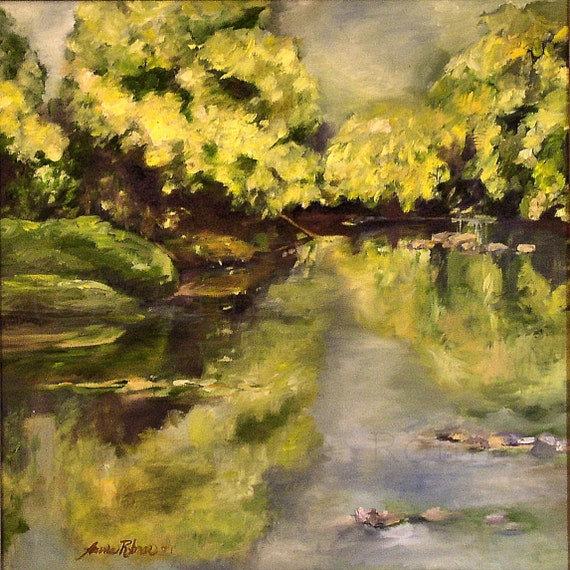 Palette: yellow, yellow green, violet,blue,sepia,hunter green,pink,leaf green,payne gray,umber.
The painting is signed and dated on the reverse and arrives Ready to hang!
The painting measures 18 x 18 inches on museum wrapped canvas (1.25″ deep) with staples hidden on the back with wood. These paintings have beautiful color and a great finish from high quality oil paints.
The staple-free sides of the canvas are painted. The painting continues around to the sides – framing is not required.
All rights are not transferable with the purchase of this painting and remain with the artist.
The copyright is for photographing and does not appear on the original.
Your painting is then safely packed and shipped via Priority Mail.
I ship everywhere please before you order ask for international shipping actual charge to your location. The price for shipping everywhere is only an estimate.
Shop:
http://BetweenTheWeeds.etsy.com
http://LaurieRohnerStudio.etsy.com
For more info about paintings
Web:
http://laurierohner.com
http://paintedfurniturestudio.com