Spring is approaching and our thoughts turn to new plantings of pretty botanical flowers for our porches and homes. Maybe something for Easter with bright cheerful wildflowers and herbs. Then how about Mom? These are fabulous ways to say you matter and special in my life. Below are a few ideas for any occasion popping up in your life. Everything is custom and nature inspired works of functional art and available at my shop Between The Weeds.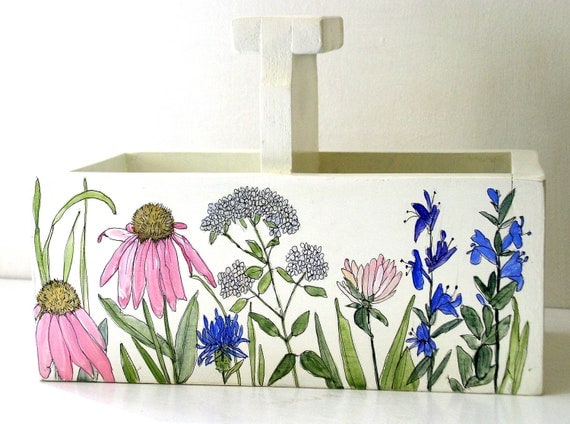 Nature Planter Box Botanical Garden Woodland Painted Furniture Farmhouse Cottage
Botanical garden woodland painted nature planter box or tote is hand painted with botanical garden cottage flowers and custom made painted furniture. In the home and garden it is a great way to brighten up a farmhouse cottage chic home decor. Use in your kitchen hall entry or bath.
Use inside in the kitchen or use it for a planter with pansies or herbs planted in clay pots. Planter needs to be lined (not included) if planting directly into the planter.
My custom made and hand crafted wooden storage utensil tote or planter painted a cottage creamy white is one of a kind. I hand paint garden wildflowers on the front and back.
Palette: raspberry, white, cream, leaf green, clear blue, cornflower blue, yellow, purple, lavender.
Made of pine
Tote measures:12.25″l x 6.5″d x 8.75″h
Inside compartments are 5″l x 5″w x 4.25″d.
Hours to finish about 4 hrs.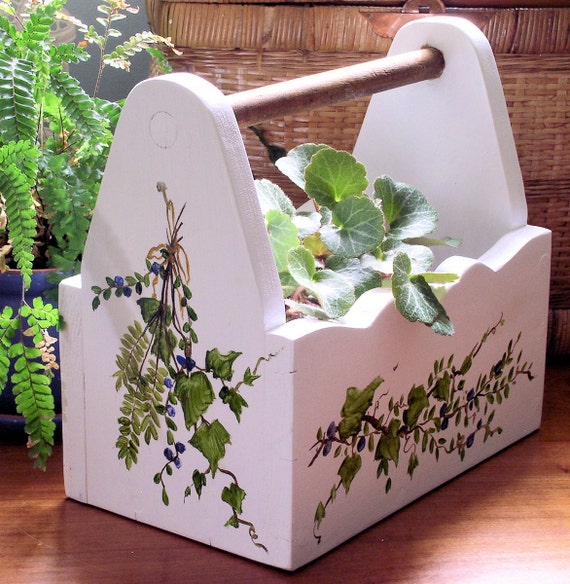 Nature Planter Box Woodland Garden
Painted woodland garden nature box planter or tote is an organizer for farmhouse cottage chic home decor. Use in your kitchen hall entry or bath. It is sturdy and custom painted with woodland ferns.
My painted furniture is crafted by hand and painted white then decorated by hand with bunches of ivy, maiden hair fern and berry on the sides and front and back. The tote is made of pine with a maple handle. I love the dainty leaves of the maiden hair ferns. The crisp green against the white gives a cool fresh feel.
You can use this tote year round.
Uses: organize your napkins and utensil or keep remotes, gloves, mail or simply fill with towels. Fill with plants or greens. Throw your phones tablets in while they charge. Great gift for a gardener?
The planter measures outside 10.75″l x 6.75″d x 10.25″ h
and the inside is 9.25″ l x 5″d x 9.5″h.
Great for a pop of whimsy in your farmhouse cottage decor.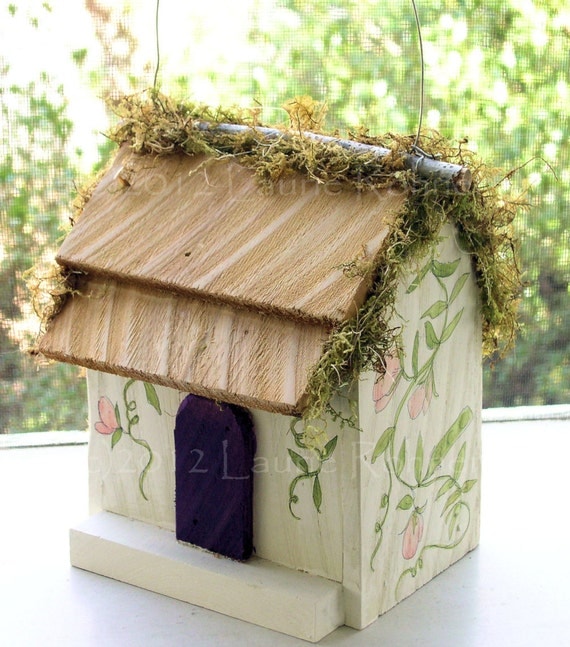 Cottage Woodland Fairy House Painted Sweet Pea
A hanging woodland fairy house painted has a cedar roof and walls with moss growing in the cracks. Painted sweet pea cascade down all sides and a purple door decorates the front. This is sweet peas home and she will bring you whimsy and joy all year long.
Hang it inside during the winter months. In the spring hang it from a limb or hook.
I think it is great for the princess fairies room where she can spend the days listening to the wee voice of her friend Sweet Pea.
Measures: 6.5″ x 7″ x 8″ and hangs 13″.
Made of cedar poplar base and a galvanized wire(no rust).
Epic ideas from Between The Weeds by Laurie Rohner Studio. For more ideas and gifts please check out Laurie Rohner Studio and Between The Weeds Shop.